9 Nature Art Mandalas for Manifesting What You Want In Your Life
Apr 07, 2020
You are invited to use my Red Shiso Nature Art Mandalas in a new
9 Step Meditation Process to Attract What You Do Want
Available today as a FREE, printable PDF download.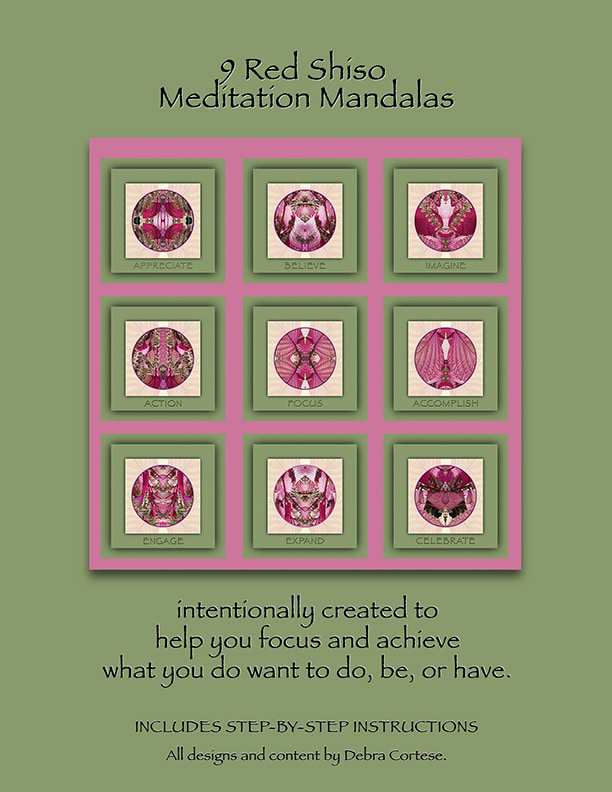 I intentionally created the 9 Red Shiso Mandalas to have a dual use as both nature art and as focus tools to manifest specific life experiences like a better job, a new home, romance, travel, wealth, and of course good health. Then, with the arrival of the COVID-19 world pandemic disrupting lives and livelihoods across the planet, I'm hoping that this meditation process is more timely and useful than ever.
As you explore each of the 9 Steps and their power words, you will be creating an incremental and very personal process that resonates with the vibrations of your specific goal. You will be guided to write out your response and thoughts about the power word of each Mandala along with suggestions that will further clarify the focus of each step. The entire process is designed to build an energetic field that supports and expands the experience that you desire.

EXAMPLE: Step 1 Appreciate - what you already have - write out your talents, skills, knowledge, favorite people, pets, neighbors, the weather, your favorite material things, things you already have. For each step you are guided to use as much descriptive detail as possible. How does it feel; where are you; what are you wearing; who is with you; what sounds, colors, smells, tastes can you describe….
To receive your 9 Step Red Shiso Meditation Mandalas booklet that contains step-by-step instructions for using each Power Mandala, CLICK HERE.
As soon as your request is confirmed you will receive an email with the link to instantly download your pdf booklet.

If you do not receive the pdf link within 1 to 3 hours, please send an email with the subject line: Red Shiso Meditation Booklet to: debra@gallerynumbernine.com
and be sure to include your full name and best email so I can personally re-send the PDF file to you.

I welcome your questions and comments as you move through the guided mandala meditations to manifest what you want in your life.

Please share this post with any of your friends and loved ones who may also be interested in accessing their own free copy of
the 9 Red Shiso Nature Art Meditation Mandalas booklet.

~ Debra Cortese
Gallery Number Nine artist/curator