Honoring Turtle - Symbol of Mother Earth
Aug 10, 2020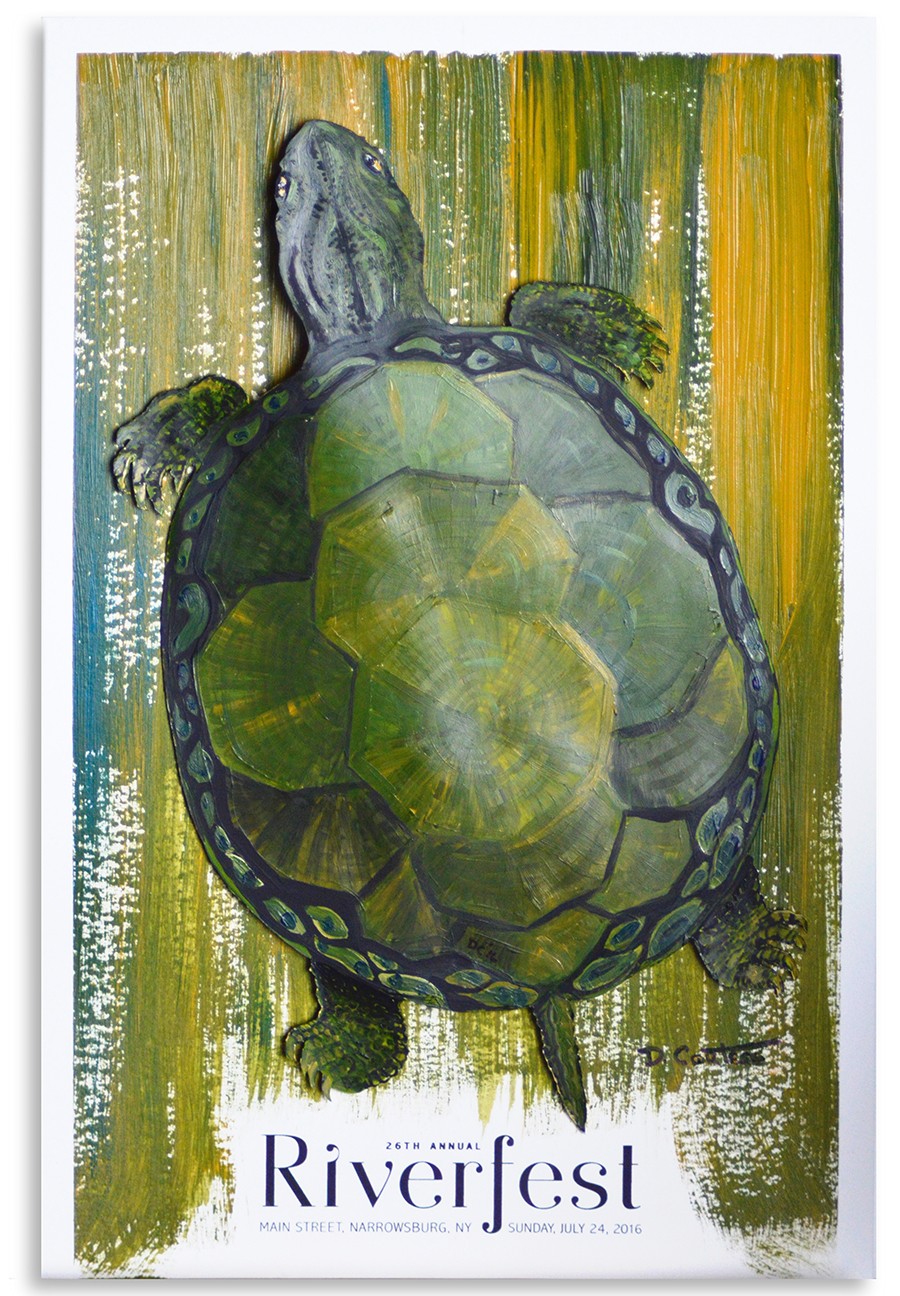 HONORING TURTLE
Symbol of Mother Earth
When I received the annual call for the 2016 Riverfest Poster Art, I knew I wanted to honor Mrs Turtle, but first I wanted a different kind of information, the kind that resonated with Her and the River and all of the elements of nature that intrigue me every day when I look out over the Big Eddy. Turtle is an ancient creature with some serious history and mythology. I wanted to paint the meaning, the feelings I have about Turtle. What resonated with her energy and felt true for me as well? I sketched for several days until a few designs felt promising. I read more about snapping turtles and I looked through old photos and notes. I'd forgotten about "Turtle's Bad Day" a startling, too-close-for-comfort, food chain experience during my last visit to Shark Valley in the Florida Everglades and, I realized that Turtle has been one of my nature guides for many years. So I reached for 'Animal Speak' by Ted Andrews knowing I would find mythical and relevant information that would help me align the painting and my feelings with the energetic patterns and symbolism of TURTLE…
"The Turtle – is one of the oldest reptiles and thus has one of the most ancient mythologies surrounding it. Turtle is a symbol for Mother Earth, for longevity and for awakening to heightened sensibilities." – Animal Speak, author Ted Andrews
In the mythology of the Far East, Turtle's outer shell represents the heavens and the shape and patterns on the shell underside are a symbol of earth.
Turtle represents wisdom, longevity. She is slow and steady, predictable, reliable, persistent.
A symbol of Mother Earth – divine feminine energy
Turtle is a shore creature – living in the water and on the land. Shores are associated with doorways/passages to other dimensions and Turtle is sometimes called 'the keeper of the doors'.
The markings/sections on many turtle shells number 13 which is associated with lunar calendars and the alternating annual cycles of 13 full or new moons which correspond to female cycles of fertility.
Turtle is a reminder to listen carefully and ask: What am I not hearing or seeing?
Andrews also writes: " turtles are opportunistic. When Turtle shows up in your life it is usually a reminder to pay attention or you will miss opportunities."
Honoring Turtle is now available as a fine art print in a variety of sizes and mediums from Gallery Number Nine. You can see all of her options in the Wildlife collection at: https://www.gallerynumbernine.com/wildlife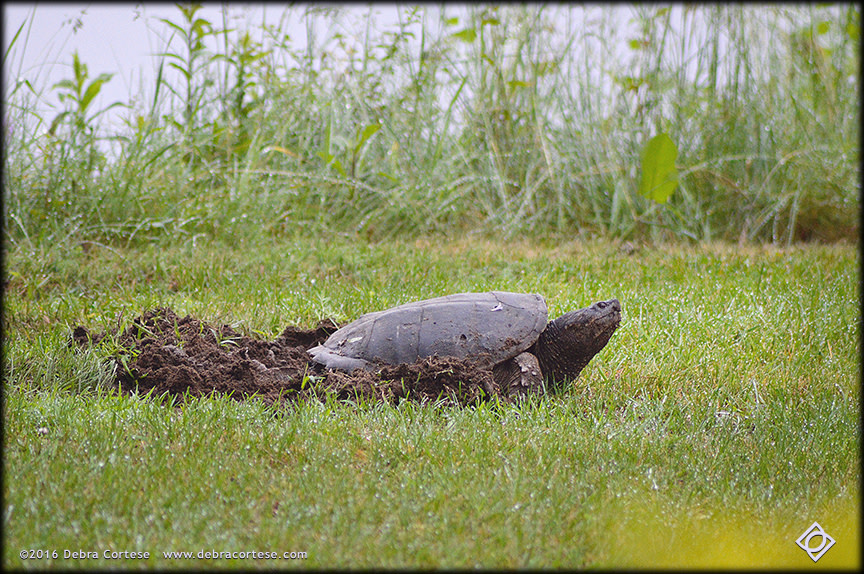 She found the nesting spot and the hours long process of digging the nest, laying and covering the turtle eggs is underway.
Typically, she arrives in Mid June and the turtles hatch in early September, however, after several years of observing this process, the predators usually find the nest late at night and have a feast of turtle eggs :-(
I was heartbroken every year. I even tried building a cage around the nest, but the skunks, snakes and who knows what other creatures are all very adept at getting what they want.
No turtle nests in my yard in 2020 but I'll keep watching for them every June.